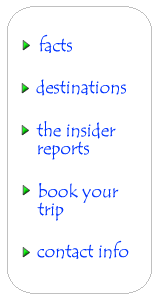 Search the pages of visitcolombia.info:

Official Name: República de Colombia
Capital: Santa Fe de Bogotá
Independence day: July 20, 1810

Colombia is located in northern South America. "The Gate to South America", Colombia is the only South American country with coastlines on both the North Pacific Ocean and Caribbean Sea.
Colombia shares borders with Venezuela, Brazil, Peru, Ecuador and Panama. With the archipelago of San Andres and Providencia 435 miles off the Caribbean coast, Colombia also shares maritime borders with Nicaragua and Costa Rica.

Natural Features

Colombia has an area of 440,831 square miles (1,141,748 square kilometres), roughly equal to the area of Portugal, Spain, and France put together. Colombia can be divided into 5 main regions: Caribbean, Pacific, Andes, Eastern Plains and the Amazon. Each region, with its own unique climate and geographical features, compose a country of great biodiversity and rich contrasts.
Being in the middle of the planet, on the Equator, Colombia enjoys sunlight all year round. The climate varies from the tropical heat on the coasts, to the perpetual snows of the mountains. Because of its geographic location, Colombia has no seasons, but rather a dry period and a rainy period with temperatures being stable throughout most of the year.
Colombia has various islands like San Bernardo, Islas del Rosario and the San Andres & Providencia archipelago in the Caribbean Sea; and Gorgona, Gorgonilla, and Malpelo in the Pacific Ocean.
The Andes mountains run across the country, with three ranges: Occidental, Central and Oriental. Other independent mountain formations include Serranía de la Macarena in the Eastern Plains, rising abruptly to around 8,250 ft. (2500 m), and the Sierra Nevada de Santa Marta on the Caribbean coast, considered the highest coastal sierra in the world, with its Pico Cristobal Colon and Pico Simon Bolivar (elevation: 19,000 ft. - 5,775 m.) being the highest elevations in Colombia.
Colombia is very rich in natural resources like petroleum, natural gas, coal, iron ore, nickel, gold, copper, emeralds and hydropower. Major rivers include Magdalena, Cauca, Caqueta, Putumayo, Atrato and Vaupes.
Click for facts: Colombian History



Colombian History | Colombian People | Colombian Economy




Proflora



Reinado Nacional del Turismo



Compuexpo



National Beauty Pageant



International Tourism Trade Show



Salón Internacional del Automóvil



Find events and celebrations taking place across Colombia!



Know the basics, be prepared, get the tips!



Send a postcard of your favorite colombian place!